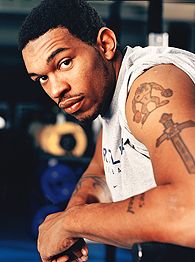 2007 was not the best of years for the Panthers and Julius Peppers, as it seemed the defensive stud took a step back this past season.  Now because of it there are rumblings that the team may let him play out his contract and not sign him to a long-term deal like the kind that Colts DE Dwight Freeney signed before this past season, which was for 7 years at $72 million, $30 mil of which was in guaranteed money.
Of course Peppers' agent, Carl Carey, thinks that Peppers is still one of the best in the game at his position, and said so much Monday to the Gaston Gazette.  "Julius is the same player he's always been," Carey said Monday. "Any speculation contrary to that is not correct in our minds. He had five extremely productive seasons prior to this year and we know he's still the same player he's always been. It doesn't matter externally what anyone else thinks."
He did have five very good and productive years, but in the world of the NFL, it's like the old Janet Jackson song – "What Have you Done for Me Lately," and for the Panthers, they may have a different take on just how good Peppers is after this past season.  He had just three sacks, 55 tackles and played in only 12 games due to injury.  This after he averaged 10.7 sacks his first five solid years in the league with Carolina.
The risk for the Panthers is signing him to a long-term deal with huge money involved.  It's a risk since the team is $14 mil under the cap, and with a huge deal to Peppers it would eat much of that up.  The guess is that the team will try to get him in at the old "hometown discount" but from the way Carey is talking, that will be easier said than done.  When he's on, Peppers can take a game over.  We saw that plenty in his first five years, but not much at all in 2007.
So what do the Panthers do?  My guess is they try to strike a deal they think is fair and will not kill their salary situation.  If they can't meet somewhere halfway, Peppers can always be franchised, but then there's the risk of him being unhappy and holding out.  It will be an interesting dilemma to see play out for the Panthers as the offseason continues.